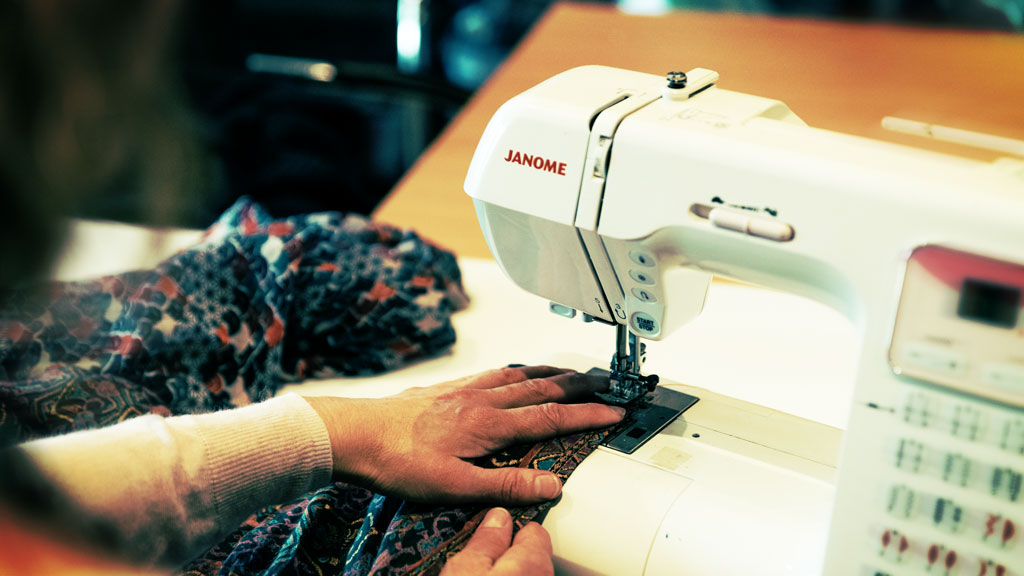 "Initially I wanted to get involved in the Greeves St. Sewing Group because I stopped using drugs years ago. But I didn't feel like I fit in anywhere outside of the drug culture. I spent 10 years trying to feel normal.
I would always go to the Drop-In centre (St Kilda) when things weren't going great in my life and the last time I dropped in it was because I was feeling really lonely. I had to leave my job because some of the guys found out I'd been a street worker, and I was bullied. So I was everyday stuck at home just looking at four walls.
When I dropped in to the centre, the team mentioned, "We are looking for special people to do a sewing course. And you get to make things for the shop." So I went straight away to the shop.
As soon as I walked into the sewing group, I felt comfortable. I felt like everyone was friendly. I started right away and pretty much finished the ten weeks needed for graduation, back to back.
The best thing about graduating was I felt great. I had a sense of accomplishment. I have never graduated from anything else. Ever. I made sure I was given a certificate. Now everyone who graduates receives a certificate.
But the most important thing about sewing group has been the friendships I've made; also volunteering and learning about business. One of the best parts is the local community – the way they've supported us. It shows there are compassionate people out there. I think just interacting with different ladies from different backgrounds – with everyone being treated equally is another big thing.
The other day a woman came in for support and she was dying her hair in the sink so I came out and helped her wash her hair. She was amazed that I was willing to help. It felt like I was helping a fellow human being – not just someone on the street. It felt like real friendship.
I remember when St Kilda Gatehouse first opened. I was homeless and we were just so grateful. There was nothing like it for people just to drop in – that was nearly thirty years ago. And I've seen so many people come and go and it is actually amazing to now be on staff.
Years ago Gatehouse pulled me in – it was their friendship and caring. If it wasn't for Gatehouse having the drop in centre – back in the day – I think I would be dead or still sleeping in the park getting drunk and sexually assaulted."
Please give generously this Christmas.
St Kilda Gatehouse works alongside vulnerable girls and women experiencing marginalisation in Melbourne.
Your donation ensures young women, girls and women are receiving basic needs (swags, meals, identification, a warm shower, clothes); referrals to professional support for complex issues (homelessness, mental health, family & sexual violence; alcohol & other drugs) and a safe community through our support workers and programs.