belong
safe. care. connection. knowledge. support. celebrate.
connect
her way. relationship. collaboration. acceptance. trust.
respect
equal. consent. power. evidence-based. best practice.
ARISE is St Kilda Gatehouse' most recent initiative and seeks to provide professional development focused on understanding, preventing and intervening in Child Sexual Exploitation (CSE).
Based on the challenges that were being presented by the young women and girls at the Young Women's Project, St Kilda Gatehouse has developed visual psychosocial therapeutic tools that include contextually relevant media. The visual tools depict various risk and protective factors associated with CSE.
ARISE Module 1 & Module 2 are our first professional development programs delivered across 2 days. Project Insight is our innovative therapeutic response to bridging a gap in the community to promote better understanding of Sexual Exploitation amongst frontline professionals, children and young people, which is provided to all training participants.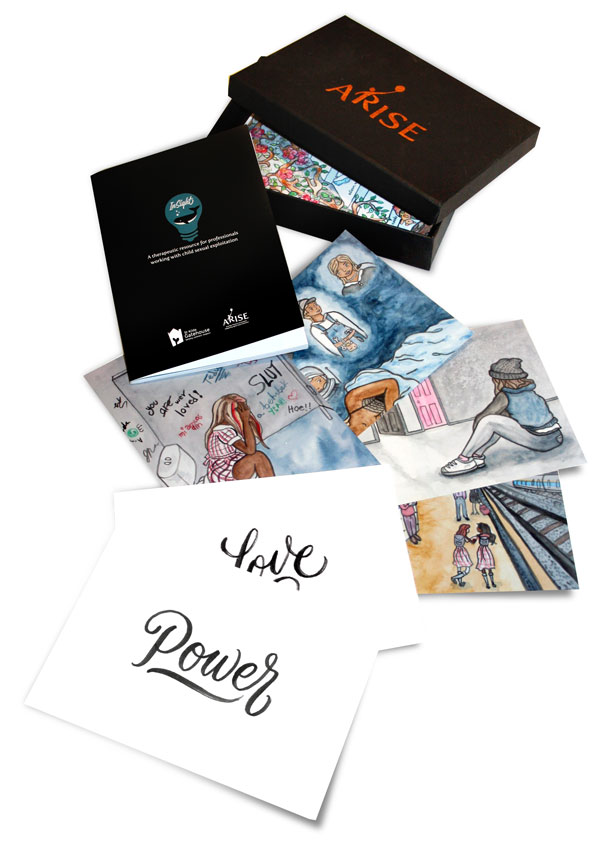 Pending on Covid 19 restrictions, workshop dates for early 2021 are yet to be confirmed.
Please email arise@stkildagatehouse.org.au to express your interest.
ARISE endeavours to equip practitioners with concrete therapeutic resources, such as Project Insight, to expand knowledge and deepen the pragmatic work that is being implemented in the community between workers and children, young people, and families affected by CSE. 
ARISE module 1
Module 1 Provides a reflective and interactive space to understand pathways into CSE, a young person's experiences, and recovery models from a therapeutic perspective. This module explores current research internationally and the significance of the digital age amongst CSE. 
ARISE module 2
Module 1- Understanding Child Sexual Exploitation
Full day workshop – 9:30am to 4:30pm 
Date & Location TBC
Cost $290 Inc. GST
Module 2 - Responding to Child Sexual Exploitation
Pre-requisite is completion of Module 1.
Full day workshop – 9:30am to 4:30pm
Date & Location TBC
Cost $390 Inc. GST
Includes Insight Therapeutic Resource 40 card story-stem resource & manual
Combined Module 1 + 2 Package
Dates and locations TBC
Cost $590 Inc. GST
Child Sexual Exploitation (CSE) TERMS
"These tools encourage a young persons growth and recovery. Enabling access to support and a safe way of sharing their story when they struggle to find words to describe their experience. All young people deserve to be shown dignity and taught about choice. To be given the opportunity to learn about self-love and respect and the courage to find their voice and take their power back"
— Carrie Bailee (Ambassador for Young Women's Project)
"The tools and knowledge of sexual exploitation through a therapeutic lens was what I liked most about this training"
Sexual Exploitation Practice Leader
"After the ARISE/Project Insight training I have more awareness of sexual exploitation and better engagement with young people and discussions around sexual exploitation"
Secondary School teacher
"More intentional engagement with young people around relationships and exploitation"
Secondary School Chaplain